I Want To...
Call or Click 24/7
for the information you need about City Services.
Do you support the expansion of the city's LRT? Add your voice. Visit 4LRT.ca
The City has begun an annexation process to acquire land south of its boundary.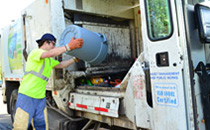 Learn how to set out your garbage for collection, what to recycle and what to take to an Eco Station.
Popular Topics
Find out about seasonal parking bans, neighbourhood blading, and community sandboxes.
This online tool showcases performance data for some of the municipal services the City provides.
Did you know that Edmonton has been recycling for 25 years? Learn how you can participate and what to recycle.
ETS Trip Planning
ETS Trip Planner