I Want To...
Call or Click 24/7
for the information you need about City Services.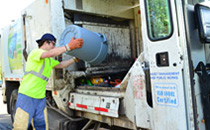 Garbage and recycling is collected weekly on the same day of the week year-round.
The pyramids are home to thousands of species of plants.
Bring your household hazardous waste such as leftover paint, oven cleaner and car batteries at no charge!
Popular Topics
Reducing the speed limit to 30 km/h saves lives.
The City has begun an annexation process to acquire land south of its boundary.
Learn more about how the City is changing the way we engage citizens in bike route decisions.
ETS Trip Planning
ETS Trip Planner