I Want To...
Call or Click 24/7
for the information you need about City Services.
Edmonton is growing rapidly and must accommodate growth. The City has begun the annexation process for lands to the south.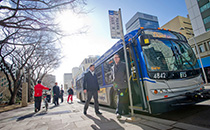 Find out about the City's budgets for programs, services and infrastructure.
This online tool showcases performance data for some of the municipal services the City provides.
Popular Topics
The Meadows, our newest, premier community recreation centre will open on November 27, 2014.
104 Avenue between 102-104 Street has been reduced to one lane in each direction.
Be an urban hero. Clear your walks within 48hrs after a snowfall.
ETS Trip Planning
ETS Trip Planner